Něco o červených květinách...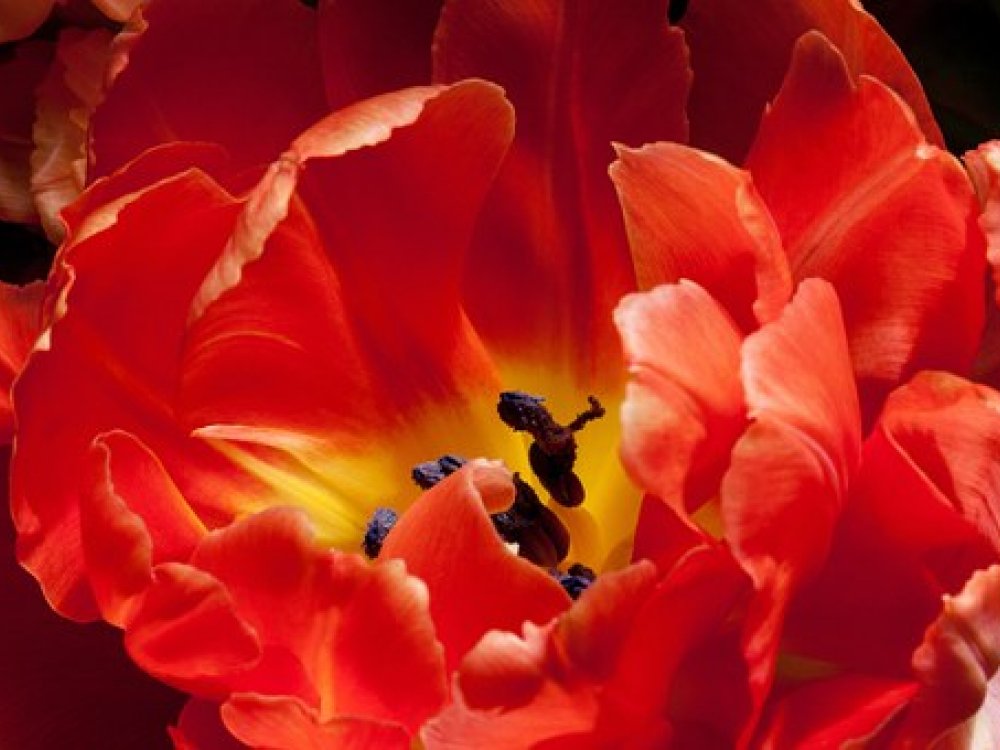 Znázorňují červené květiny něco víc než vášeň a lásku?
Červená je jednou z nejoblíbenějších barev do květinových pugétů snad po celém světě. Zvláště díky síle a energii červených růží jsou červené květiny bez pochyby synonymem pro romantické vzkazy. Každopádně, to není vše. Význam červených květů je rozmanitější a neměl by být omezen stereotypem, že slouží pouze potenciálním 'romeům'.
Co symbolizuje červená barva u květin
Zejména pro ty, kdo někdy poslali nebo obdrželi červené valentýnské růže, nebude žádným překvapením, že květiny tohoto zabarvení jsou známé jako ten nejlepší způsob, jak vyjádřit lásku. Červená je běžně vnímána jako barva vášně a s červenými květy to není jinak.
Zatímco jsou tedy tyto květy skvělé k oslavě vašeho výročí nebo při romantické příležitosti, ještě jsme zcela nepokryli jejich další charakteristické rysy.
Vášeň a láska…a dál?
Samozřejmě, že je toho za červenou mnohem více než její hlavní role, ve které působí jako barva spojená se vším kolem romantiky. Červené květy jsou také symbolem pro sílu, vitalitu a rodinné vazby.
Červená, jako barva krve, blízce souvisí s představou vnitřní přirozené energie - síly vnitřního nastavení. Krev v tomto případě také symbolizuje těsnou vazbu rodiny, ačkoliv vzhledem k silnému spojení se vztahy romantickými, bychom byli s věnováním červených květů rodinným příbuzným opatrní.
Význam červených květin v různých kulturách
Existuje mnoho vhodných kulturních příležitostí, mimo romantické úmysly, kdy červené řezané květiny velmi zapůsobí jako dárek. Jeden takový příklad je Mezinárodní den žen v Rusku, kde červené růže jsou v celé zemi přijímány ženami a dívkami jako symbol vděčnosti a náklonnosti.
Snad mnohem zásadněji je červená mnohem významná v zemích Dálného Východu a v Číně, kde je to barva štěstí a blahobytu. Díky tomuto významu jsou červené květiny ideální volbou právě ke gratulaci k něčímu úspěchu nebo jako přání dobrého zdraví a prosperity.
Dále, například v Indii a Nepálu je červená barva charakteristická jako součást svatebního obřadu, kdy Sari (indický ženský oděv) nevěsty je běžně jasně červené barvy.  
Oblíbené červené květiny jako dárek
Růže
Chryzantémy
Lilie
Gerbery
Amarylky
Tulipány
Alstromérie
Anthurie
Pomocí červených květin lze říci víc, než jen "miluji tě", ne že by se jednalo o zrovna průměrné gesto…S těmito květy projevíte druhému obdiv pro jejich sílu, vitalitu nebo mu jednoduše vyšlete hřejivý vzkaz lásky.
You might also be interested in
ARTICLE_PAGE_ARTICLES_TEXT

Even the only rose will please! When to donate it?
Every man has at least one woman in his life, who is constantly expressing his thanks for what he has done for him. But it does not have to be expensive gifts that the woman does not want. The greatest joy will do little. So help her in the house or just buy a flower. However, you do not have to think about buying an expensive puget of flowers. Just buy a cute rose. It will always make you the most joyous and perfectly joyous every day, even if it was to be the worst day in a woman's life.
read the whole

Events that do not forget to give the woman a flower
A woman is a fine creature that must be pampered. If you care about her and take care of her, she is happy and does not make you a hell of life. According to the woman she is also a real successful man. It is said that according to the smile of a woman a successful man is known, so the gentlemen should always take care that on their partner's lips there is always a smile symbolizing the fact that they are loved.
read the whole

Delivery bouquet of roses
To give a bouquet to his wife, girlfriend or lover or business partners? Delivery bouquet of roses at home or at work is a common by many florists. Bouquets can deliver precisely the appointed time 7 days a week. Delivery is totally anonymous on the card is given only text that you request.
read the whole